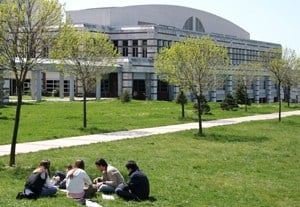 Solutions for educational institutes can be as simple as a plastic ID card for identification purpose or it can a multi function smart card that could be used not just for ID but also for library, door access, in-campus transport, canteen, attendance marking etc. We have experience in issuance of in-campus smart cards for simple to complex applications. In addition, we are able to provide additional functionalities by integration the card for library ID, access control, copier metering and others.
CASE STUDY: UNIVERSITY GETS SMART WITH 30,000 MULTI-FUNCTION ID CARD
The Project:
The customer is a national university with 30,000 students. They plan to issue each student an smart ID card for identification and access to services within campus. Each is a contact card with magnetic stripe for legacy compatibility. Some of the services planned include library access, in hostel dining privilege, campus shuttle service and others.
The Solution:
We provided a customized version of our PESONA card issuance software integrated to the university's back end database. One of the integration's key feature is data separation to ensure confidentiality as frontline operation is maintained by a 3rd party contracted by the university. PESONA handles electrical and optical perso of blank MPCOS smartcard for both ad-hoc and batch basis issuance.
We provided:
1. PESONA customized card personalization system.
2. Zebra desktop card printers for card issuance.
3. Various applications for managing card including:
– Self service pin reset facility
– Card information reader
4. Services including card perso script and back end software integration.